I started doing some research after
 watching this mysterious video that
surfaced and this is what I found…
This is a photo of the plane prior to crash, notice the wheels.
 They appear to be identical to the trio we see in the video.
 Notice the color of the wheel itself and the round part in the center…
Second…this photo shows the large piece that appears behind the man on the ground who raises his arm. This is obviously from different angles but it seems to match up with the video as you can see the red portion at 1:20 into the video.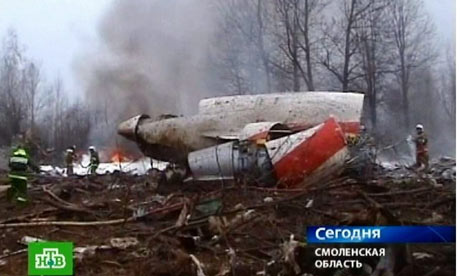 I'm still trying to confirm that this guy was really killed who made the video. Here is some info on it…
http://chechencenter.info/n/events/530-1.html
Last, there is some video from the crash site as well as some great info in this video. I'm really not sure what happened here but the video definitely seems to be authentic. I cant tell if the sound effects are real and I dont speak Russian or Polish. I think if nothing else this video proves that there were survivors at the scene of this crash and that, if nothing else, has been covered up. Hopefully there is a large outcry in Russia and Poland to investigate this further.